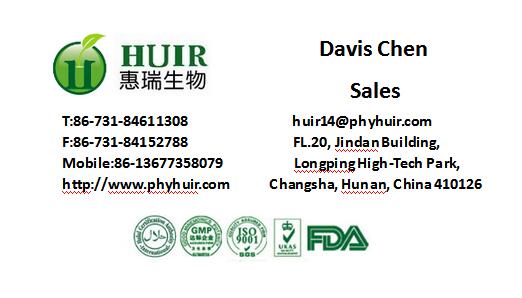 Professional manufacturer supply natural ginkgo biloba P.E.
Ginkgo biloba, or maidenhair tree, is renowned worldwide for its medicinal properties. This remarkable tree is known as a 'living fossil', as it is the sole survivor of an ancient group of trees that date back to beyond the time of the dinosaurs. Changsha Huir provides 100% natural and quality Ginkgo Biloba powdered extract from Jiangsu, the largest producer of Ginkgo.
| | | | |
| --- | --- | --- | --- |
| Product Name | Ginkgo Biloba Extract | Latin Name | Ginkgo Biloba L. |
| Active Ingredient | Ginkgo Glycosides | Content | 24%/6% |
| Test Method | HPLC | Extract Method | Solvent Extraction |
| Part Used | Leaf | Appearance | Brown yellow powder |
| CAS No. | 90045-36-6 | Formula | C15H18O8 |
Prevent Alzheimer
Ginkgo leaf is often taken by mouth for memory disorders including Alzheimer's disease. It is also used for conditions that seem to be due to reduced blood flow in the brain, especially in older people
Improve Circulation
Ginkgo seems to improve blood circulation, which could help the brain, eyes, ears, and legs function better. It promotes good blood circulation in the brain and protects the brain and other parts from neuronal damage.
Antioxidant
Ginkgo biloba extract is effective in fighting the oxidative stress related to aging. It can ameliorate the mitochondria respiratory chain function by quenching the superoxide anion, and the hydroxyl radicals.