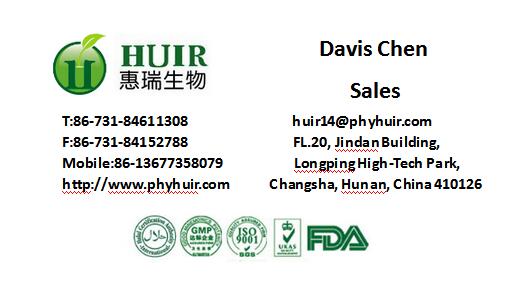 Best quality panax ginseng extract/ginseng root extract
Ginseng is one of the most widely used herbal supplements. It is believed to restore and enhance normal well-being and has become one of the most popular herbal remedies in the world today. The herbs consist of a light-colored, forked-shaped root, a relatively long stalk and green leaves with an oval shape.
Both American Ginseng (Panax quinquefolius, L.) and Asian Ginseng (P. Ginseng) are believed to provide an energy boost, lower blood sugar and cholesterol levels, reduce stress, promote relaxation, treat diabetes, and treat sexual dysfunction in men.
| | | | |
| --- | --- | --- | --- |
| Product Name | | Latin Name | Panax quinquefolius, L |
| Active Ingredient | Ginsenosides | Content | 80% |
| Test Method | UV | Extract Method | Solvent Extraction |
| Part Used | Stem and Leaf | Appearance | Light yellow powder |
| CAS No. | 51542-56-4 | Formula | C48H82O18 |
Energy provider
Ginseng may help with stimulating physical and mental activity among people who are weak and tired. A Mayo Clinic study revealed that ginseng showed good results in helping cancer patients with fatigue.
Cognitive function
Ginseng stimulates brain cells and improves concentration and cognitive activities. Evidence shows that taking Panax ginseng root daily for 12 weeks can improve mental performance in people with Alzheimer's disease.
Boosting Immune System
Panax ginseng is used for depression, anxiety, general fatigue and chronic fatigue syndrome, multiple sclerosis, for boosting the immune system, and for fighting particular infections in a lung disease called cystic fibrosis.